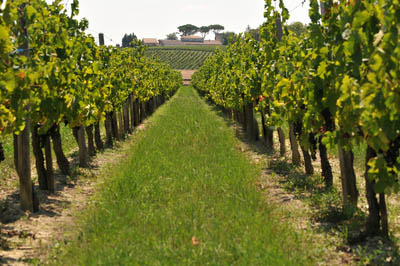 Name
CHATEAU SAINT LÔ
Apellation
SAINT EMILION
Operator
LES VIGNOBLES REUNIS S.A
Classification
GRAND CRU
Total suface area of the Estate
18 hectares
Vineyard area
16 hectares
Grape varieties
85% Merlot
15% Cabernet franc
Director General
Raphaël VONGSURAVATANA
Technical advisor
Emmanuel VILLEGA
Master or cellars
Eric MIGRON
The terroir : Geography, Geology, Weather conditions
The estate is located on four of the five towns with the right to use the Saint Émilion appellation since 1289 (Saint Hippolyte, Saint Etienne de Lisse, Saint Laurent des Combes, Saint Pey d'Armens) as well as on the Sainte Terre town for the Bordeaux wines. The operation building from the sixteenth century is located at Saint Pey d'Armens. The soil is very diversified, mainly sand-clay and chalky-clay on an iron dross layer. The local climate is temperate oceanic.
Vine management
- Plantation density: 5 300 trees per hectare.
- Short size, single guyot pruning.
- Traditional cropping system and integrated agriculture.
- Maturity control by parcels.
- Manual harvesting by a 30 people teams.

Winemaking process
- Manual selection
- Winemaking process by parcels on low volume barrels (60 to 120 hl), according to vine
ageing, soils and maturity degrees.
- Short and moderated pumping over, but repeated until a 1020 density is reached.
- 22°C malolactic fermentation process.

Vieillissement
- Chais à barrique climatisé et régulé en hygrométrie.
- 1/3 de barriques neuves chaque année.
- Vieillissement en barriques de 18 mois.

Wine ageing process
- Low temperature and hygrometric regulated barrel warehouse.
- 1/3 of the barrels are renewed every year.